Post by Elena on Jan 18, 2015 3:23:44 GMT -8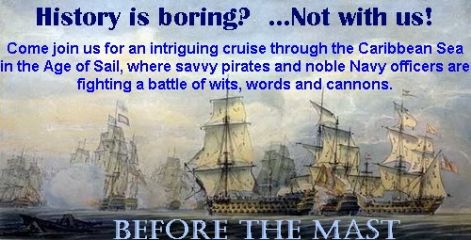 It's 1720 in the West Indies. Peace with Spain was signed in February 1720. In late April its news will arrive to the West Indies, so all the Navies will ally against the common foe – pirates, making their trade more difficult to survive.
Sea fights, duels, plenty of swashbuckling adventures, intrigues of all kinds, mutiny, romance, betrayal –
BEFORE THE MAST
brings to live the Age of Sail like none before.
Which side are you on?
OUR SHIPS NEED MORE CREW!
-
sailors
- as many as possible, anywhere between the ages of 15 and 50, volunteers (for all ships) or victims of the press gang (for the British and French Navy). Those who are 25+ most likely are veterans of the War of Spanish Succession. For common sailors, some black or having Native American blood would be welcome among pirates and privateers.
-
1 lieutenant
– 18-35 years of age, from a noble family, needed by the British Navy
-
1 sailing master
- 24 to 45 years of age, from a middle class family, needed by the French Navy
-
2 ship boys
– 12-15 years of age, from a poor to middle class family, needed by the pirates and British Navy
-
2 midshipmen
– 14-18 years of age, from a noble family, needed by the French and British Navy
For the higher positions held by pirates and privateers, the candidate is starting as a common sailor, advancing in the story (after the next battle) to the position wanted.
For more opportunities and details on the tasks of each position, check the ship ranks and tasks and the ship roster, because if you want a position which is not mentioned in the roster as limited and already taken, it might become yours!
We hope you love drama, action and romance, because that's what we have to offer here. Being a part of our crews will give you the opportunity to get involved in sea battles, duels, political intrigues and all kind of adventures. The plot will further develop according to your wishes, as, besides the general plot/ laying, there are several player-driven side ones. Your characters will have crewmates, finding among them friends or enemies, and plots to enter in immediately. We have many stories still left to be told...
Additional Information/Notes:
The requirements are simple - people who can write in English (not all our players are native English speakers, but they can write in English) and who can post at least once a week for each character/ thread.
We have guides to help you with the time setting, and we are more influenced by historical events rather than following them by the history books!
Come live with us
BEFORE THE MAST
the Age of Sail times! Sharpen your blades, load your guns, drain that last sip of rhum and join our swashbuckling adventures!